Long-Term Study Shows Neurostimulation Relieves Leg Pain
Allison Gandey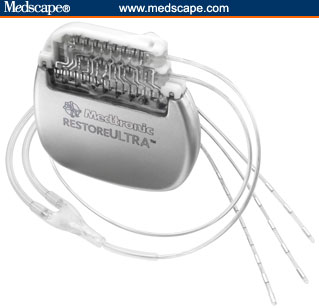 RestoreULTRA (the type of device that was implanted for neurostimulation therapy in the PROCESS trial)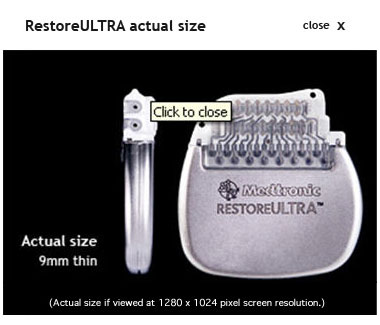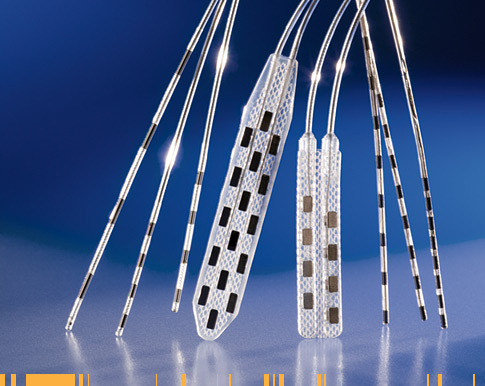 Different type of electrodes
November 20, 2008 — New 24-month results suggest that spinal-cord stimulation provides sustained leg pain relief, improved quality of life, and functional capacity in selected patients with failed-back-surgery syndrome. No effect was seen with stimulation, however, on back pain.
The results, from the Prospective Randomized Controlled Multicenter Trial of the Effectiveness of Spinal Cord Stimulation (PROCESS), appear in the October issue of Neurosurgery. The study was funded by Medtronic.
"There is a growing understanding that spinal-cord stimulation is beneficial," senior investigator Richard North, MD, from LifeBridge Health Brain and Spine Institute, in Baltimore, Maryland told Medscape Neurology & Neurosurgery. "We are seeing more class 1 evidence, and the field is maturing and coming of age."
Dr. North pointed out that surgical trials are extraordinarily difficult to perform. The challenge is even greater when one is studying patients undergoing surgery for the treatment of pain.
We are seeing more class 1 evidence, and the field is maturing and coming of age.
In an accompanying comment, Oren Sagher, MD, from the University of Michigan at Ann Arbor agrees. He compliments the authors, calling this important work. "They have carried the freight for the rest of us and demonstrated that it is possible to conduct scientifically rigorous studies of surgical procedures even in patients with the most difficult conditions."
Jaimie Henderson, MD, from Stanford University Medical Center, in California, had a similar reaction to the trial. "This report provides some of the best evidence to date supporting the efficacy of spinal-cord stimulation for the treatment of failed-back-surgery syndrome," he writes in the journal.
An estimated 10% to 40% of patients fail spine surgery, and most experience persistent pain. In the current analysis, investigators led by Krishna Kumar, MD, from the Regina General Hospital, in Saskatchewan, randomized 100 failed-back-surgery patients to receive spinal-cord stimulation with conventional medical management or conventional therapy alone.
No Improvement in Back Pain
Patients were from 12 centers in Europe, Canada, Australia, and Israel. Participants provided information on pain, quality of life, function, use of pain medication, treatment satisfaction, and employment status.
At 6 months, the spinal-cord-stimulation group reported significantly better pain relief and clinically important improvements in functional capacity and health-related quality of life (P < .05). These results were reported previously (Kumar K et al. Pain 2007;132:179-188).
After 6 months, patients failing to achieve adequate pain relief in either group could request to crossover to the alternative treatment.
By 12 months, 5 patients who were randomized to the spinal-cord-stimulation group crossed to the conventional management group, and 28 patients randomized to conventional therapy crossed to spinal-cord stimulation.
The primary end point for the trial was the proportion of patients reporting an improvement of leg pain relief of at least 50%. Investigators observed no significant difference in back pain (P = .21). Of the 52 patients randomized to spinal-cord stimulation, the 42 continuing with the therapy reported improved leg pain relief (P < .0001), better quality of life (P < .01), and improved functional capacity (P = .0002); 13 (31%) of these patients required a device-related surgical revision.
Dr. Kumar and colleagues report that patient satisfaction was high. A total of 93% declared that based on their experience at 24 months, they would have agreed to treatment. Of patients who underwent a surgical revision for a spinal-cord-stimulation–related complication, 89% were satisfied with therapy.
Of the 42 spinal-cord stimulation patients, 45% experienced complications. The most frequent were:
Electrode migration (14%).
Loss of paresthesia (12%).
Pain at the implanted pulse generator incision site (12%).
Infection or wound breakdown (10%).
"Because the rate of crossover favoring spinal-cord stimulation beyond 6 months would bias a long-term randomized group comparison," the researchers write, "we present all outcomes in patients who continued spinal-cord stimulation from randomization to 24 months and, for illustrative purposes, the primary outcome per randomization and final treatment."
Results at 24 Months
| | | | |
| --- | --- | --- | --- |
| Primary End Point | Spinal-Cord Stimulation (n = 46 of 52 randomized), % | Conventional Management (n = 41 of 48 randomized), % | P |
| Improved leg pain relief | 37 | 2 | .003 |
Results After Crossover
| | | | |
| --- | --- | --- | --- |
| Primary End Point | Spinal-Cord Stimulation (n = 72), % | Conventional Management (n = 15),% | P |
| Improved leg pain relief | 47 | 7 | .02 |
In an accompanying comment, Drs. Ivano Dones and Giovanni Broggi, from the Istituto Neurologico Carlo Besta, in Milan, Italy compliment the work: "This is an excellent article on a limited series of patients," they write. "We noted, with appreciation, the randomization of patients to be recruited and submitted alternatively to spinal-cord stimulation and/or oral drug therapy. Moreover, this article is enriched by extensive statistical analysis of data on sufficient long-term follow-up examination of the patients."
They add, "Kumar et al have provided an important contribution to the field of surgical management of pain that, in our opinion, will stand for a long time."
John Loeser, MD, from the University of Washington, in Seattle, made similar remarks, "The quality of this work will certainly advance the field."
No study is perfect, he added, and this one has some potentially worrisome factors. "These include the fact that the patients in the control group received treatment that had already failed for them. In this sense, it is an enrichment study that will make the control group look worse."
The fact that the study was funded by and actually performed by a device manufacturer and that many of the local investigators had links to the device manufacturer raises some questions about hidden biases, Dr. Loeser added.
Device Manufacturer Involved
"We do not know how typical the subjects were of patients referred to the investigators for spinal-cord stimulation," Dr. Loeser noted. "In addition, neither the patients, the physicians involved, nor the study evaluators were blinded to the patients' group assignment. Of course, this blinding may not have been possible, but it still raises concerns," he pointed out.
I can say that personally I am disappointed.
"The best way to view this study is to consider it as an open 24-month nonrandomized trial of spinal-cord stimulation for patients with leg pain," Richard Penn, MD, from the University of Chicago Medical Center, in Illinois, adds.
"As one who has worked with and participated for more than 30 years in electrical stimulation for pain for failed-back-surgery syndrome, I can say that personally I am disappointed," Dr. Penn says. "No substantial improvement in results has occurred over all these years, all the devices currently made are about the same, and the studies show outcomes for leg pain that we already know from personal experience. We have landed short of our goal."
Dr. Penn argues that investigators need new ideas and a fresh start.
During an interview with Medscape Neurology & Neurosurgery, Dr. North said that response to the work has largely been positive. The senior investigator added that the crossover design of the trial is challenging, but his group worked to address this as much as possible.
This study was funded and managed by Medtronic. The trial was designed and supervised by a trial steering committee that consisted of 4 external advisors and 2 representatives from Medtronic. Data were collected and analyzed by Medtronic under the direction of the committee. Johns Hopkins University (Dr. North's former employer), and the nonprofit Neuromodulation Foundation, of which Dr. North is a director, have received reimbursement as consultants for Medtronic. Other disclosures appear in the paper.
Neurosurgery. 2008;63:762-770. Abstract

Related Links
News
Spinal Cord Stimulation May Treat Axial Low Back Pain
Spinal Cord Stimulation Provides Long-Term Relief in Failed-Back-Surgery Syndrome

Resource Centers
Advanced Approaches to Chronic Pain Management Resource Center

External Links
Example of spinal cord stimulation used in the PROCESS trial

---

---

Allison Gandey is a senior journalist for
Medscape Neurology & Neurosurgery
. Allison was part of theheart.org and jointandbone.org news teams, which were acquired by WebMD. She is the former science affairs analyst for the
Canadian Medical Association Journal
. Allison is a guest speaker at the Carleton University School of Journalism and Communication. Working with the national science reporter at the
Toronto Star
and an associate professor at Carleton University, Allison developed guidelines for journalists covering medical news. She has a master of journalism specializing in science reporting and a commerce diploma. Allison has edited a variety of medical association publications and has done some work in radio and television. She can be contacted at
agandey@medscape.net
.
Medscape Medical News 2008. © 2008 Medscape