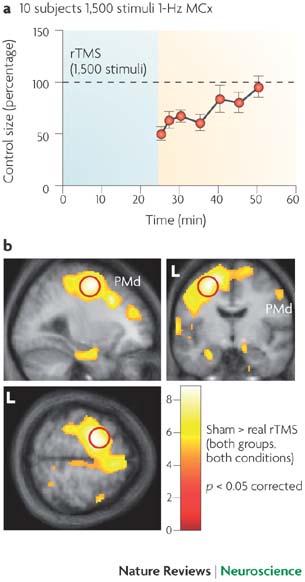 a

|

Time course of changes in excitability of the motor cortex after 25 min reptitive transcranial magnetic stimulation (rTMS; blue shading) at 1 Hz and an intensity of 90% resting threshold. Data reflect the amplitude of the electromyographic response to a single TMS pulse as a percentage of the amplitude before rTMS. The response is suppressed immediately after rTMS and this effect persists to a decreasing extent for the next 30 min.

b | Brain images from a study that used positron emission tomography (PET) to measure metabolic activity. The colour coding shows the areas in which activity after a 25 min session of real 1-Hz rTMS over the dorsal premotor cortex (PMd) is less than that seen after a sham rTMS session. Numbers in the colour code bar are Z-scores, which indicate the probability that the activation differs from the rest; Z>4 is highly significant. There are significant decreases in activity after real rTMS at the site of stimulation (outlined in red) as well as at many distant sites. L, left side of the brain. Panel a modified, with permission, from Ref. 10 © (2001) International Federation of Clinical Neurophysiology. Panel b modified, with permission, from Ref. 82 © (2003) Oxford Univ. Press.
Download file
If the slide opens in your browser, select "File > Save As" to save it.