The Adrenal Medulla and the Pancreatic Islets
The catecholamines, which are produced by the adrenal medulla, have a significant influence on body metabolism. Epinephrine, for example, sets in motion a large number of physiological mechanisms required to sustain vigorous activity; one of its consequences is the stimulation of ACTH secretion by the pituitary. The activity of the adrenal medulla is primarily under the control of the sympathetic nervous system.
Udinstev and his colleagues (18) exposed rats to 200 gauss, 50 Hz, for 24 hours, and then sacrificed groups of animals up to 14 days later and examined the catecholamine levels in the brainstem, hypothalamus, liver, spleen, and heart. The results, presented in table 6.3 demonstrated a phasic series of changes of concentration of the catecholamines in each of the tissues; normalcy was not re-established until 7-14 days after exposure.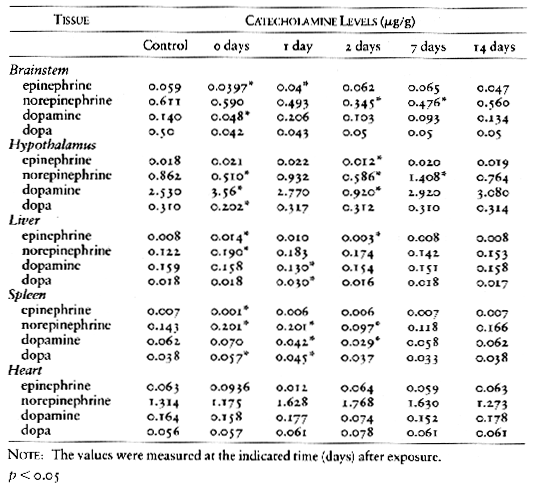 Table 6.3. CATECHOLAMINE LEVELS IN RAT TISSUES FOLLOWING TWENTY-FOUR HOURS' EXPOSURE TO A 5 O-HZ MAGNETIC FIELD
Chronic intermittent EMF exposure also produced changes in adrenal-medulla physiology. Three-hour daily exposures of rats at 90 gauss, 50 HZ, resulted in increased catecholamines in the adrenals after 6 months (19). The adrenal-medulla cross-sectional area of rats exposed to 70 MHZ, 150 v/m increased by 60% after 3 months exposure for 1 hour/day (14).
The pancreas contains aggregations of cells called islets, which produce insulin, a hormone that promotes the synthesis of carbohydrates, proteins, and nucleic acids. The pancreas is innervated by sympathetic and parasympathetic fibers whose terminals are in contact with the cell membranes of the islet cells. In a study involving the endocrine function of the pancreas, rats were exposed to 200 gauss, 50 Hz, continuously (24 hr) or intermittently (6.5 hr/day for 7 days) (20). In both instances, an insulin insufficiency was produced. Blood glucose was not affected by the continuous exposure but it was increased by 37% following the intermittent exposure.
---